K's Concept Vol.4 - Connecting the Three -
"K's Concept" is an art project to discover and introduce new talent.
The fourth one will be three person exhibition of Urushi(Japanese lacquer) artists Masaaki Toyoda, Mitsumi Irahara and Kanae Ako.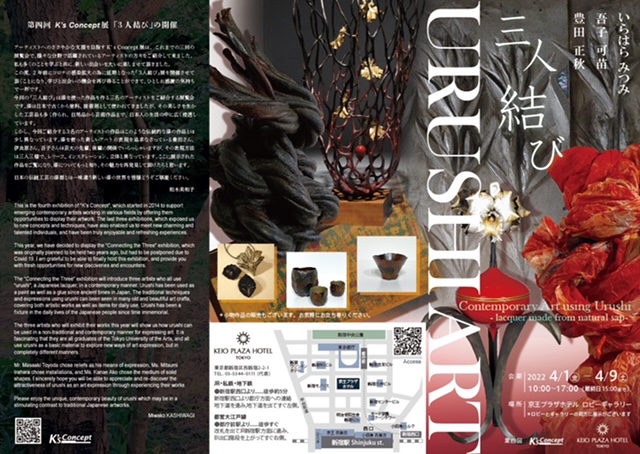 K's Concept, three person exhibition of Masaaki Toyoda, Mitsumi Irahara and Kanae Ako ―Connecting the Three―
April 1st (Fri) to 9th (Sat), 2022 10:00a.m. - 5:00p.m. (Last day - 3:00 p.m.)
Keio Plaza Hotel Lobby Gallery


---
The Fourth K's Concept Exhibition
'Connecting the Three'
This is the fourth exhibition of "K's Concept", which started in 2014 to support emerging contemporary artists working in various fields by offering them opportunities to display their artwork. The last three exhibitions, which exposed us to new concepts and techniques, have also enabled us to meet new charming and talented individuals, and have been truly enjoyable and refreshing experiences.
This year, we have decided to display the "Connecting the Three" exhibition, which was originally planned to be held two years ago, but had to be postponed due to Covid 19. I am grateful to be able to finally hold this exhibition, and provide you with fresh opportunities for new discoveries and encounters.
The "Connecting the Three" exhibition will introduce three artists who all use "urushi", a Japanese lacquer, in a contemporary manner. Urushi has been used as a paint as well as a glue since ancient times in Japan. The traditional techniques and expressions using urushi can been seen in many old and beautiful art crafts, covering both artistic works as well as items for daily use. Urushi has been a fixture in the daily lives of the Japanese people since time immemorial.
The three artists who will exhibit their works this year will show us how urushi can be used in a non-traditional and contemporary manner for expressing art. It is fascinating that they are all graduates of the Tokyo University of the Arts, and all use urushi as a basic material to explore new ways of art expression, but in completely different manners.
Mr. Masaaki Toyoda chose reliefs as his means of expression, Ms. Mitsumi Irahara chose installations, and Ms. Kanae Ako chose the medium of solid shapes. I sincerely hope you will be able to appreciate and re-discover the attractiveness of urushi as an art expression through experiencing their works.
Please enjoy the unique, contemporary beauty of urushi which may be in a stimulating contrast to traditional Japanese artworks.

Miwako Kashiwagi