K's Concept 1st Exhibition - Colors Up Close, Gradations at a Distance -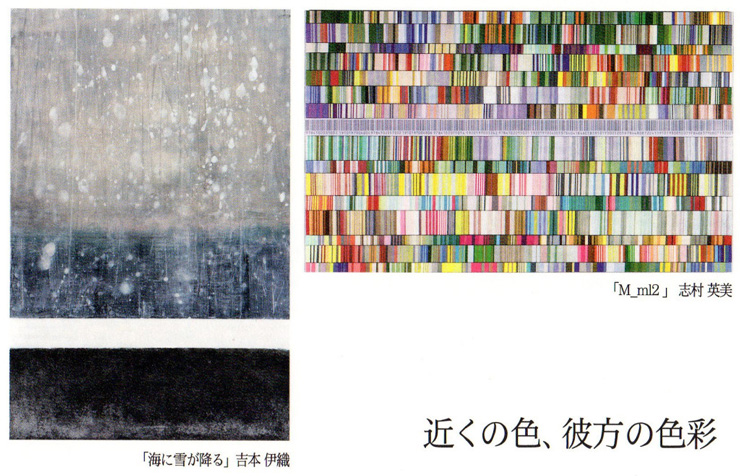 "K's Concept is an art project to discover new talent and introduce to the world. Part 1 will be a two-artist's exhibition of Hidemi Shimura and Yoshimoto Iori. Hidemi Shimura used to activities in Shanghai, Iori Yoshimoto represents the beauty of monotone.
(From Invitation testimonial)
K's Concept Hidemi Shimura and Iori Yoshimoto Exhibition
- Colors Up Close, Gradations at a Distance -
February 21st (Fri) - 28th (Fri), 2014
10:00 a.m. - 7:00p.m. (Until 4:00 p.m. The last day)
Shinjuku Keio Plaza Hotel Lobby Gallery
---
Notes on the Exhibition: "Colors Up Close, Gradations at a Distance"
-What is "K's Concept" ?-
"K's Concept" is an exhibition that grew out of my desire to increase opportunities for young artists to exhibit their work in public.  My own feelings about art have been a point of departure, and beyond that my hope that those who attend the exhibition will appreciate works of art by a variety of artists with diverse artistic styles.
Although art appreciation has been an interest of mine since my youth, I first started making my own artwork after I had turned 50.  I always had the lingering feeling that there had to be some other way of relating to art.  The more I consider it the more I think art is important to us humans, something that is fundamental to the human condition.  I believe art has the power to bring people together in remarkable ways, and have often wondered whether the world might not become a livelier place through art.
For the world to gain energy from art, the supporting foundations of the art world need to expand and nurture the ranks of new and young artists.  Perhaps the most orthodox if not the most direct way to support young artists is to visit their shows and purchase their works.  However, I thought there must be different, perhaps more interesting ways to achieve this goal.  The problem was, I was not quite sure what those ways might be.
A casual conversation with Mr. Shigeru Idei, my painting teacher at the Ueno no Mori Art School for the last ten years, offered a suggestion that led to the foundation for what has become the "K's Concept" Exhibition.  The idea was for me myself to choose young artists whose work I admired, and to mount an exhibition of their work that would raise their profiles and help build an audience for them and their work.  Mr.Idei introduced me to the Lobby Gallery of the Keio Plaza Hotel, and with their generous support we have been able to make the "K's Concept" Exhibition a reality.
During the preparatory stages, I was fortunate to be introduced to the exciting works of two young enthusiastic artists, Ms. Hidemi Shimura and Mr. Iori Yoshimoto.  Ms. Shimura's works, using silk embroidery thread wrapped around acrylic boards, create a harmony of a range of bold and complex colors. The seemingly simple black and white of Mr. Yoshimoto's landscape paintings using graphite powder and Chinese ink transmit the rich, deep and intricate nuances of the undertone.
I wish the viewers will enjoy the contrast of colors and gradations created by these two artists, each with completely different artistic styles.  I also hope that this show will serve as a steppingstone for the two artists' productive and successful careers in the coming years. 
Finally, I would like to express my sincere gratitude to Mr. Idei for his wonderful suggestions and for supporting me throughout this endeavor.  Without his guidance, my dream would have never come true.  I am truly happy today – my passion for art has borne wonderful fruit in a way that I have never imagined before.
Thank you very much for visiting the show.
Feb. 21st, 2014
Miwako Kashiwagi
---
By participating the 1st "K's Concept" exhibition
-Comments by exhibiting artists -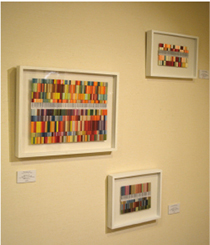 Contemporary Artist Hidemi Shimura
When I got this exhibition opportunity, I was still living in Shanghai. At that time I was thinking about moving back to Japan, but I was wondering if I can fit with the Japanese art industry.
However, I needed to carry all the artworks to Japan for this exhibition, and I decided to move back to Japan.
Actually I felt nervous because I haven't exhibited my artworks in Japan for long time. But I could get ready without any problem, because I could get enough support and suitable advice at all times.
As a result I could receive warm responce from the people and I could sell some of the artworks. So I could get the enough confidence and I thought I can get along in Japan.
My activity base was moved to Saitama from Shanghai, I will continue expanding my activities as an contemporary artist.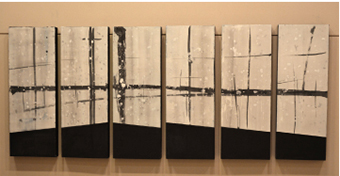 Contemporary Artist Iori Yoshimoto
"K's Concept Exhibition", which was held at the Keio Plaza Hotel in February 2013, provided a great opportunity for me.
As a young artist, I usually spend most of my time working on my own art in a small atelier located in Koganecho, Yokohama which is a town trying to revitalize itself through promotion of art work.  Many young artists have gathered in this town, and are encouraged to compete, collaborate and give stimulus to each other.
At the same time, unfortunately, it would be rare for me to meet potential buyers as long as I remain in that area.  My desire to test whether there are people who would appreciate and would be willing to purchase my art works slowly developed.
"K's Concept Exhibition" was an ideal opportunity.  I met some people who actually bought my art works.  I would not have had the opportunity to meet these people if I had stayed in my small atelier.
Currently, I am involved in certain projects to promote revitalization of rural cities, such as Amakusa, Ishinomoaki, Toride, in addition to Koganecho, Yokohama.
Indeed, I have received tremendous incentives and encouragements from the experience I had at the Keio Plaza Hotel.